B-Epic 30-Day Guarantee and Return Policy.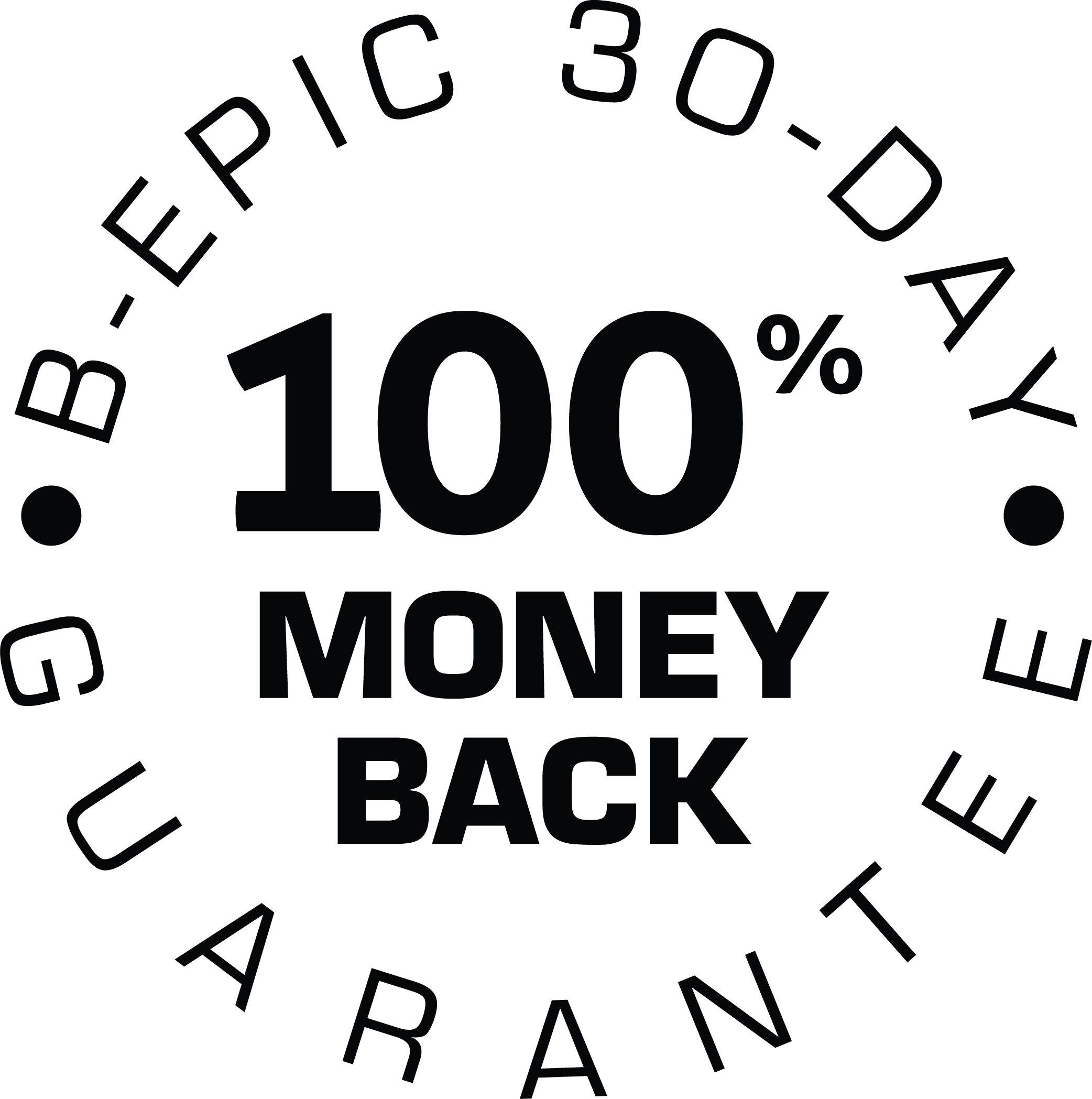 B-Epic products have been enhancing people's lives around the world. We invite you to try them for yourself backed by our B-Epic 30-Day 100% Money Back Guarantee.

You're going to love your results! But if for any reason you are unhappy with a product, you can return it within 30 days for a full refund of the purchase price excluding shipping and handling. No questions asked. To ensure your refund is processed quickly, be sure to follow the instructions for the B-Epic Refund Policy (see below).

Please be advised that the money back guarantee is available only on regular size, single unit product purchases. Sample size, product packs, and multi-unit purchases (e.g., Buy 2 Get 1 Free) do not qualify.
B-Epic Refund Policy Instructions:

RETURNS AND REFUND POLICY

B-Epic has a 30-day 100% refund policy on product purchases. Sample size, product packs, or multi-unit purchases (e.g., Buy 2 Get 1 Free) do not qualify. Refunds are given based on the original purchase price. Shipping and handling charges are non-refundable. The one-time sign-up fee for distributors is also non-refundable.

To be eligible for a refund of a product purchase, you must submit a refund request within 30 days of the original order date. Refunds are only given if this 30-day requirement is met. No exceptions can be made. Please note, some international orders may qualify for a time extension; contact Member Support for details.

To request a refund, submit a Support Ticket via your online B-Epic Back Office. Be sure to include the order number. Once the request is processed, Member Support will provide you with a Return Merchandise Authorization (RMA) number, which needs to be clearly printed on the outside of your return package. To be eligible for a refund, all unused portions of the product must be returned, and the return package must be postmarked within the 30 days of the original order date.

Be advised that we do not accept – nor issue a refund for – any package marked "return to sender" or "refused". Nor do we accept C.O.D. returns. Shipping charges are not reimbursed unless the return is due to an error on our part (i.e., you received an incorrect or defective item). You are responsible for all costs related to shipping back the product and that it arrives to us without damage. Therefore, we recommend insuring your return package for your protection.

After we receive the return, the refund for the original purchase price will be issued to your E-Wallet account or credit card. Shipping, handling, and any other fees are non-refundable. Be advised that a refund will not be issued until after the returned product is received and processed by the B-Epic Fulfillment Center. Therefore, we recommend you get delivery tracking for your return package, so you have proof that it was shipped and delivered.

Be advised that we will not accept – nor issue a refund for – any packages marked "return to sender" or "refused". Nor will we accept C.O.D. returns. Return shipping charges will not be compensated for unless the return is a result of our error (i.e., you received an incorrect or defective item). You, as the buyer, are responsible for all costs related to shipping back your product and that it arrives to us without damage. You are advised to insure the return package for your protection and to obtain proof of shipment.

After we receive your return, and it is processed, we will issue the refund for the product price. You will not be reimbursed for the shipping and handling charges or for the one-time Independent Brand Partner activation fee.
You can read our site's terms with the Terms and Conditions link at the bottom of the page. You can also see B-Epic's full Terms and Conditions with this link:

B-Epic Corporate full Terms and Conditions